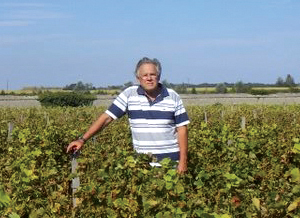 A long time ago, the monks of the Abbey of Pontlevoy would make, say people, their wine with the grapes of Les Grandes Vignes and into the property.
Time passed by, the vineyard was desactivated , and, till 2009 no more vineyard remained in the property.
In this precise year of 2009 the owners decided to revive the od tradition and created a small vineyard, with two grape varieties : Sauvignon Blanc, of course, as this is the best grape variety in t this region ; and Sauvignon Gris, grape variety almost forgotten, quite a cousin of Sauvignon Blanc, but with a strong personnality and an outstanding quality. This Sauvignon Gris, of which only a few hectares in the world still exist in commezrcial production, allows to produce a white wine with a surprising complexity. Blended with Sauvignon, which brings freshness, we could achieve an excellent wine.
In a joint ventura with a local traditional wine producer, Cedric Allion, we have developped 3 exclusive wines for our Les Grandes Vignes :
Sauvignon Blanc Château des Grandes Vignes
Le Clos, Sauvignon Blanc+Gris
Cabernet Franc Château des Grandes Vignes
These wines, and others of the Touraine Region ( Crémant, Rosé de Touraine, Cot, Gamay among tohers ) cand be tasted by our guests in our Wine Corner.